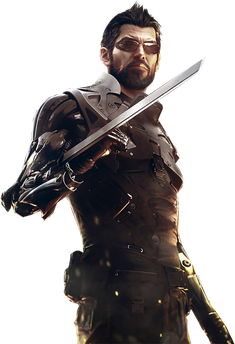 About Deus Ex: Mankind Divided
The year is 2029, and mechanically augmented humans have now been deemed outcasts, living a life of complete and total segregation from the rest of society. Now an experienced covert operative, Adam Jensen is forced to operate in a world that has grown to despise his kind. Armed with a new arsenal of state-of-the-art weapons and augmentations, he must choose the right approach, along with new Characters deciding who to trust, in order to unravel a vast worldwide conspiracy.
Become the ultimate augmented covert agent. Choose from a vast array of cutting edge Weapons and Augmentations, customizing them exactly to your desired specifications. Unlock new Abilities, increase your Stealth, Social, Hacking or Combat Skills, and determine how you want your character to evolve in order to fit your play style.
In the near future, mankind stands divided. Explore diverse Locations and discover a near future setting where the fate of humanity hangs in the balance. The oppression of the mechanically augmented has created a climate of fear and resentment, resulting in an escalation of crime and acts of terror. Amid all the chaos, secret Organizations are working behind the scenes, attempting to manipulate and control the fate of mankind.
Deus Ex: Mankind Divided will launch on August 23rd, 2016 for PlayStation 4, Xbox One and
Steam
.
Deeper Development & Handy Links
Experience the renowned world of Deus Ex, where the decisions you make and the actions you take play a crucial role in determining the game's outcome. Choose between combat, stealth, social, and hacking approaches to achieve your objectives. Be mindful though, as in Mankind Divided there will be a meaningful consequence to every action and choice you make.
The year is 2029, and Adam Jensen is once again a changed man. Disillusioned and bitter after his attempt to save the world only left it more divided, he's joined a newly-created Interpol counter terrorism unit known as Task Force 29. On the surface, Jensen's goal is to hunt down terrorists in a world that's spinning out of control. But what he's really after are the men and women responsible for tearing the world apart, the people who are still pulling the strings.
In his obsessive drive to unmask them, Jensen will continue to dig for answers, inching his way ever closer to the truth. He knows that stopping The Illuminati is the only way to make things right again. For the world. For the men and women he cares about. And for himself.